80% More Effective than Print and other marketing Material
HashTag Animation Video Marketing
01
Create a Script
The first step to creating an animated video is drafting a script

02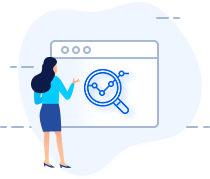 Prep your Voice-Over
Get your voice-over created either on your own or with professional help
03
Animation Creation
We take about two weeks to develop your video once we have received your scrip and/or voice over
Let the Animations do the talking
Do you ever find it difficult to explain to your customers exactly what it is that you do? Do you spend countless hours training staff or spending thousands on social media posts that just don't seem to get the message across? 
Well we may just have the answer for you!
HashTag Marketing offers our clients the ability to create highly effective and easy to understand animated videos that capture your audiences attention. Did you know, that people are 27.4% times more likely to click on a video than to click on a static banner?
Also a cleverly scripted 2-3 minute video can be up to 80% more effective and can convey as much information as a stack of printed material. In today's fast paced world, users would much rather watch a short video for a couple of minutes, than have to read and article that would easily take anywhere between 15 – 20 minutes to read through. 
Lastly, and probably most importantly, especially when it comes to marketing is that, viewers retain up to 95% of  a message when they watch it on video compared to only 10% when reading the same bit of information in text format.  
Video Animation Price list
What are you waiting for? Don't you think its time you start investing in Video Animation!
30 Sec Video
R 2500
30 Sec Video
Animation
logo Inclusion
Own Characters
Royalty Free Music
2 Free Revisions
Choose This
1 min Video

R 3500
60 Sec Video
Animation
logo Inclusion
Own Characters
Royalty Free Music
2 Free Revisions
Choose This
1 Min 30 Sec Video

R 4500
1 min 30 Sec Video
Animation
logo Inclusion
Own Characters
Royalty Free Music
2 Free Revisions
Choose This
how to get started
A Few Simple Steps
to getting your quotation